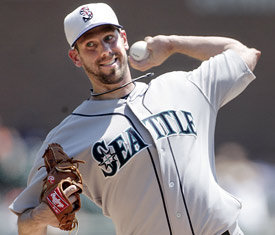 When I wrote in the last entry that if the Yankees acquired Cliff Lee prior to Friday night they could avoid facing him, I was entirely joking. And yet, here we are, apparently on the precipice of just such a deal.
If the deal comes down as is being reported, with Jesus Montero and David Adams in the package, the Yankees will lose two quality prospects, albeit two that don't have an obvious place to play. Second baseman Adams, 23, is having a terrific year for Trenton (he's presently sitting out with an injury), hitting .309/.393/.507. Adams hitting has always been solid, and when someone hits that well for Trenton, you take notice. With Robinson Cano an immovable object at second, there is nowhere for him to play—second baseman don't make good utility infielders because they're usually challenged at short, and as well as Adams is hitting, his isn't the kind of bat that's going to play at any of the four corners due to a lack of longball power.
Montero you know all about. He's a special hitting prospect, his difficulties at Triple-A likely being transient. However, if the Yankees have determined he's not a catcher, he was limited to DH with Mark Teixeira also being a brick wall. There is nothing wrong with making a kid your DH, though teams are highly averse to doing so. That said, DH is the easiest position to fill, the Yankees' Nick-Johnsonian problems this year notwithstanding, and letting a player who you perceive as a pure DH block you from acquiring an ace starting pitcher would be foolhardy. The Yankees also have Austin Romine coming up right behind Montero; you could see him in Triple-A if the deal goes through. Despite a slump-y June, he's still a solid prospect and a better defender than Montero, if unpolished.
Lee is 31. Montero is 20. Even if the Yankees re-sign Lee, Montero will be playing long after Lee's "Yankeeography" is in repeats. Still, as the old saying goes, flags fly forever. While the acquisition of Lee should have very little impact on the division race, the Yankees swapping out a competent pitcher for a competent pitcher (whoever goes to the pen or another team; that's still not clear), it could have a major impact on the postseason. Phil Hughes and A.J. Burnett struggled last October, while Javier Vazquez owns a 10.34 ERA in four postseason games, including some decisive thrashings at the hands of the Red Sox in 2004. Contrast that with Lee's 2009 postseason: five starts, 4-0, 1.56 ERA. Instead of having to hit their way through Lee, since he might have gone to a team the Yankees would face in the playoffs or World Series, instead of having to rely on CC Sabathia and Andy Pettitte and prayer, they'll have this weapon on their side.
As I write, details keep coming: Sweeny Murti tweets that Eduardo Nunez and Hector Noesi may be in the deal as well. Nunez's bat is nothing special, and since the Yankees apparently don't plan on relieving Derek Jeter any time soon (a discussion for another time, but for now suffice it to say that they're probably right), his presence is not urgently required. Noesi looks like a heck of a young pitcher, but he's more of an Ian Kennedy type than a Hughes-Joba Chamberlain; his velocity is nothing special. You can use a pitcher like that—there are only so many Hughes-Chamberlain arms out there—but the Yankees have been successful in building pitchers of this type and should be again. Joel Sherman is speculating that Zach McAllister is in the deal, and what goes for Noesi goes for him, too—he's a feel guy, not a stuff guy. Again, there are feel guys in the Hall of Fame; you can't take them for granted. You also shouldn't hold them too closely to get an ace.
In short, whatever you think of Adams, McAllister, Noesi, or whoever else is in the trade, the deal really comes down to Montero plus replaceable parts for Lee. That seems like a deal worth doing.
It remains to be seen who moves out of the starting rotation. Sabathia and Pettitte obviously aren't going anywhere, and given that Burnett is signed at $16.5 million a year through the end of time, messing with him doesn't seem like a particularly productive idea. That leaves Vazquez, who could be traded, be it for prospects, bullpen help, or bench players, and Hughes.
Hughes hasn't impressed lately. Since his ERA dropped to 1.38 after his sixth start on May 12, he has a 5.56 ERA in nine starts, having been very hittable (.286/.329/.484) including allowing a ton of home runs. Sending him to the bullpen seems like a self-defeating move, especially in the long term—if you're the Yankees you want to nurse him through his and help him find consistency as a starter—but trying to kill two birds with the same Lee seems like a possibility; you drop the weakest non-billionaire link out of the rotation and bolster the pen at the same time. Add in (overblown) concerns about Hughes' innings limit and you can see how the trade might affect the rotation. Such a move with Hughes would eliminate the need for further trades, at least for the pen. It would still leave the weak DH situation unresolved, and the lack of platoon/bench strength against left-handers.
Jayson Werth, anyone? He's supposedly available, and though he would lose quite a bit of value moving out of the Phillies' friendly ballpark and to the harder league, he's a career .295/.397/.555 hitter against lefties, a terrific defender, and an excellent percentage base stealer. Do the Yankees have the bullets left to grab him?