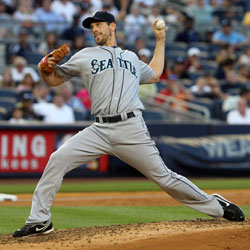 Today's subject line with apologies to Pete Townshend… Coming into the season, the Mariners were rated contenders for the AL West title. They had gone 85-77 last year despite being outscored on the season, and while that should have been a clue that the M's were due to go backwards, offseason acquisitions such as Casey Kotchman, Chone Figgins, and Milton Bradley were viewed as giving them a sufficient offensive basis to support their already-strong pitching. That staff was augmented by the acquisition of Cliff Lee from the Phillies in one of the most bizarrely self-defeating trades in the history of that ballclub. The new Mariners didn't figure to hit a lot, but the thought was that they could pitch and defend their way to a bunch of 4-3 wins.
Despite last night's seven runs against the Yankees, the Mariners offense has been so bad that they have not been above to get four runs on anything like a regular basis. They are last in the AL in runs scored per game (3.45), last in slugging (.347), and second-to-last in batting average (.241) and on-base percentage (.309). None of the acquisitions hit, and with the exception of Franklin Gutierrez and Ichiro Suzuki, none of the holdovers did either. Lee got hurt and didn't start the season until the end of April. Erik Bedard has yet to pitch due to shoulder surgery (he's rehabbing now). The bullpen, a major asset last year, has been one of the worst in the game this year.
And yet, the Mariners have been winning. They haven't been winning a lot, of course; 100 losses seemed possible just a few weeks ago. Still, for a team that has no player with even eight home runs, they have scraped close to a .500 record in two out of three months this season, going 11-12 in April and 13-13 in June. There is honestly no good reason for that; this month they have been outscored 79-114. When your team is averaging three runs of offense a game and you look at the calendar and it's not 1906, there is no way you should be breaking even. The Mariners have gotten there through excellent pitching and some luck. Of their 13 wins this month, five have been of the one-run variety. Three wins were shutouts against NL teams, two of the Reds (started by Lee and Ryan Rowland-Smith) and one of the Cubs (Jason Vargas). When the M's scored seven runs off of Phil Hughes and pals last night, it was just the ninth time all season that they've reached or exceeded that total. The Yankees have gotten there 27 times.
This is all a long-winded way of exploring the idea that the Mariners are headed for a change of direction in the standings, with the elevator taking the express downwards and picking up speed when they deal Cliff Lee away. It remains for the Yankees to speed them on their way, primarily by not allowing a flatlining offense to score seven runs.