THINKING OF MY FATHER
From Jerome K. Jerome's "Three Men in a Boat" (1889):
I went to my medical man… He opened me and looked down me, and clutched hold of my wrist, and then he hit me over the chest when I wasn't expecting it—a cowardly thing to do, I call it—and immediately afterwards butted me with the side of his head. After that, he sat down and wrote out a prescription, and folded it up and gave it me, and I put it in my pocket and went out.
I did not open it. I took it to the nearest chemist's, and handed it in. The man read it, and then handed it back… I read the prescription. It ran:
1 lb. beefsteak, with
1 pt. bitter beer every 6 hours.
1 ten-mile walk every morning.
1 bed at 11 sharp every night.
And don't stuff up your head with things you don't understand.
I followed the directions, with the happy result - speaking for myself - that my life was preserved, and is still going on.
And now, the baseball stuff.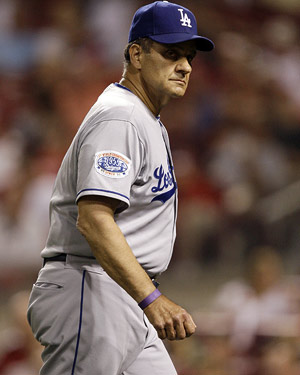 OLD FRIENDS, A NEWSPAPER BLOWING THROUGH THE GRASS
I can't see a reason to get overly exercised about the Yankees being reunited with Joe Torre this weekend, though in opposition to him except in a sentimental way. The enmity that seems to exist between Torre and upper management in the Yankees organization is regrettable. Torre wasn't a tactical genius, but his calm, humanistic approach to managing the team on the field and the expectations of the owner off the field were exactly what the organization needed when he came along in 1996.
If some of the claims Torre made when arguing for a new contract after 2007 are true—as reported in Bill Madden's new George Steinbrenner biography, Torre told the Boss that the success of his teams allowed the Yankees to create the YES Network and build the new stadium—then he allowed his press to go to his head, forgetting that winning those championships was a collaborative exercise and that the Yankees brand predated him. Still, he does deserve some credit for, at minimum, helping to get the focus off of the back pages and back on the standings. And though Torre was reluctant to trust Derek Jeter, if he held back Jorge Posada for far too long, if Buck Showalter had showed the way on Mariano Rivera, at least Torre did ultimately embrace changes that have had hugely positive effects for the organization. It is wrong that there are almost no remembrances of Torre around the new ballpark.
Over time, the needs of the Yankees changed, and Torre lost touch with some of the qualities that made him such a positive influence. Thirty-three years ago, Billy Martin was given the gift of Reggie Jackson and reacted as if he'd been stabbed in the back. He spent the next few years doing all he could to minimize Jackson's value to the club rather than exploit his abilities to the fullest. Torre wasn't quite that bad with Alex Rodriguez, but if Jeter was Torre's prized stepchild then A-Rod was Cinderella.
Given that disconnect, which potentially could have damaged the organization to the tune of millions of dollars, as well as some lackluster playoff performances and an oddly subdued reaction to his prize pitcher being carried off by giant flies, and the team had reason to make a change. Additionally, the executive team that followed Steinbrenner père had a different character than that of the Boss and not only didn't require Torre's soft-soap approach, perhaps they were offended by it. It's also possible that Torre let the Uncle Joe mask slip one too many times with the wrong people, as humility was replaced by ego and entitlement, and that alienated the current ownership/executive group.
Nonetheless, Torre's contributions to team history, while perhaps not as momentous as he might imagine (this is, after all, a manager who wasn't thrilled to have a rookie named Jeter take over for the injured Tony Fernandez in 1996), are real, and will remain real regardless of present hostilities. It is to be hoped that someday soon both sides will recognize that and Torre, who will turn 70 this year and won't be around forever, can have the kind of homecoming he and his fans deserve.
It was 10 years before resentments between Casey Stengel and the Yankees had healed to the point that his No. 37 was retired. Let's hope that Torre won't have to wait that long.
PHIL HUGHES: A BUMPER STICKER
Fix A.J., don't break Phil.
(And don't stuff up your head with things you don't understand.)
WE CANNOT DODGER OUR FATE, SO EMBRACE YOUR DESTINY
Torre's Dodgers team lacks pitching. The club has allowed 4.6 runs per game in a league that averages 4.4. That this would be their fate was no secret as early as last fall, but the team's ownership problems prevented much from being done about it. If they want to make a real run at the wide-open NL West, they'll have to make a deal for pitching, assuming they can take on salary. Until then, it's pot-luck pitchers like Charlie Haeger and Carlos Monasterios.
It is the Yankees' bad timing to show up in Los Angeles just in time for the top of the rotation. Fortunately, their own rotation is set up as well, with CC Sabathia opposing Vicente Padilla, whose home run rate, while not quite as bad as A.J. Burnett's has been lately, is still high. Consider this odd split: left-handed hitters are only 8-for-40 (.200) against Padilla, but five of those eight hits have gone over the fences.
The problematic matchup of the series comes in the second game, when Burnett is scheduled for what has lately been his weekly pummeling. His opponent, Hiroki Kuroda, is the kind of pitcher who typically gives the Yankees trouble, with the kind of strong control that defeats their patience. Right-handed hitters have had a particularly hard time reaching base against him, posting just a .286 on-base percentage against the Japanese veteran. It won't matter if Burnett doesn't get himself organized.
The final matchup, appropriately Sunday night's national game, pits great old lefty Andy Pettitte against potentially great young lefty Clayton Kershaw, probably the best Clayton since the Lone Ranger died. Kershaw leads the NL in strikeout rate, whiffing 10.1 batters per nine innings. He also leads in walks allowed, passing 4.7 per nine; like many young lefties with stuff, he hasn't yet figured out the whole command thing. Left-handed hitters are batting .188/.289/.341 against him, and if you want a test of Joe Girardi's managerial sang-froid, here it is: does Curtis Granderson sit on Sunday?
FINALLY, A NOTE ON BRANDON LAIRD
Trenton's Laird has been on a power tear of late, hitting eight home runs in June, including two yesterday. His overall line is .293/.344/.558 with a league-leading 18 home runs, and remember his ballpark: he's hitting .314/.371/.606 with 10 homers on the road. He also has 76 RBIs, a crazy-high number for this stage of the season—he's hit 13 of those home runs with men on.
Laird is a third baseman now and perhaps a first baseman in the Majors. The Yankees are full up at both positions, apparently forever, which means that the 22-year-old Laird, brother of the Tigers' Gerald, makes for rather obvious trade bait should the Yankees make a move for some help next month. The question his unexpected season—he hit just .266/.329/.415 at High-A Tampa last year and was largely discounted as a prospect—provokes is whether he has made himself interesting enough merit keeping, perhaps for the open DH position in 2011, along with the odd cameo at the corners. Parenthetically, Scranton lacks a regular third baseman, so there is nothing preventing Laird's promotion should the Yankees feel he's ready to move up.
To get the obvious out of the way first, the answer depends on what you might get in return. Beyond that, one has to assess Laird's potential. He clearly has home run power, but it's not certain that the rest of his game is strong enough to merit projection as a strong regular. He makes very good contact for a power hitter, but the downside of strong contact is relatively few walks. Laird isn't old-style Robinson Cano, but 40 walks a season seems like a lot right now. Pencil in a .275 batting average, which might be a lot given his .283 career rate, and you have an OBP that is going to struggle to reach league-average.
None of that means that Laird can't or won't be a quality Major Leaguer. At this stage, we should probably expect that he will be, though his role might not be as a middle-of-the-order regular but as a part-time number seven type. Those players have great value when used appropriately. Is that bird-in-the-hand worth more than a Prince Fielder or a Paul Konerko or Cliff Lee? That's a judgment call, though in my opinion not a difficult one.