LIFE GOES ON
Sorry to have missed yesterday's entry, fellow pilgrims. My father had a bit of a setback and was forced to make a return to the hospital. I spent much of the day sitting with him in the emergency room. The good news is that he's expected to be okay once they tinker with him some. "Tinker," that's not a metaphor for anything.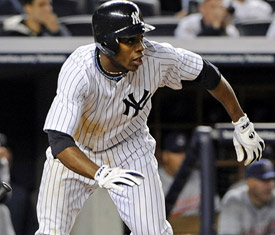 A LEFT-HANDED SUGGESTION
I don't mean to keep harping on this issue—well, I do mean to keep harping on it, because it's important, especially with the Yankees now tied with the Rays and poised to go past them at some point in the near future (thank you, Houston Astros and your brilliant ownership/management). Their move to the top of the pack just underscores the fact that if all goes on in the present manner, they will be in the postseason, playing big games against big pitchers. In the playoffs, they might see David Price, Jon Lester, Francisco Liriano, Dallas Braden, Gio Gonzalez, C.J. Wilson, Joe Saunders, or Scott Kazmir. What do all of these cats have in common? They're all left-handed.
Do you really want to see Curtis Granderson coming up with runners on second and third and one out and leaving them there as he swings three feet over a changeup from one of these guys? More to the point, do you believe that Joe Girardi, in full Coffee Joe mode, is going to allow him to? Of course not. As such, it's important that the Yankees establish the alternative now, so Girardi's response is planned rather than improvised.
After 54 plate appearances, Granderson is hitting .200/.245/.340 against lefties and he's struck out in 38 percent of his plate appearances against them, which is a pace for about 230 strikeouts in a 600 at-bat season. Normally we would be dismissive of such a small sample, but these numbers are consistent with Granderson's .209/.268/.344 career rates. It's time to accept that this is something he just can't do (unlike Brett Gardner, who is hitting .295 against same-side pitchers) and set up a platoon arrangement. Now.
POINT OF ORDER, MR. CHAIRMAN
Brett Gardner vs. Carl Crawford: an ongoing observation prior to the latter's free agency. Things could change, but for now, here's where they stand.
| | | | | | | | | | | |
| --- | --- | --- | --- | --- | --- | --- | --- | --- | --- | --- |
| | AGE | AVG | OBP | SLG | HR | BB | SB | CS | TAv | |
| Crawford | 28 | .296 | .346 | .465 | 6 | 19 | 21 | 4 | .293 | |
| Gardner | 26 | .317 | .400 | .422 | 3 | 27 | 22 | 4 | .306 | |
"TAv" is true average, which used to be called equivalent average. It's a nice all-in-one stat that sums up overall offense on the same scale as batting average. No further comments at this time, your honor.
A QUICK NOTE ON CHAD HUFFMAN
Huffman (or as I think of him, "Chuffman") came up on a fairly cold streak. Whereas he had hit .330/.414/.433 in May, he was hitting only .256/.310/.359 in 10 June games. If the Yankees can reserve him for work against left-handers, he should be okay. He lacks the selectivity to be a strong everyday player, but they need a right-handed bat off the bench. The prerequisites for that position aren't terribly high, and Huffman might do as good a job as anyone.
GOODBYE, OSCAR AZOCAR
Azocar, who was one of the "Baby Bombers" of the ill-fated 1990 season, died at the sadly young age of 45. The Yankees, having awoken to find themselves with an aging, pretty much star-free roster in 1990, decided they needed a youth movement. Unfortunately, they had spent the previous 15 or so years neglecting the farm system. A youth movement requires youth, and the Yankees had been burning their draft picks on free-agent compensation and not really developing those players who they did sign. As such, they had to call up what they had. Azocar was one who made it up just because he happened to be there.
Azocar began his career as a pitcher but was converted to the outfield at 21. As a hitter, he had an incredible ability to make contact, but the downside of that skill was that he never learned to take ball four. Like a more extreme version of Robinson Cano, he would swing at anything because he could. This approach worked well in Azocar's first two weeks or so in the Majors, before pitchers figured out they could throw him anything anywhere and he'd go fishing. In his first 15 games, he hit .386/.386/.667—four home runs and no walks. After that, it was pretty much straight downhill, Azocar hitting .197 over the rest of the season. He never did hit again.
That December, the Yankees traded Azocar to the Padres for a more talented player named Mike Humphries, not that they used him—"more talented" being a relative term. Why the Padres thought they needed Azocar remains an open question. He didn't hit for them either and was let go. No one picked him up and he was done in organized baseball except for a brief Mexican League comeback in 2000-2001.
Azocar wasn't a good player, but he will always have a place in Yankees lore for those first 15 games. He, Jim Leyritz, and Kevin Maas provided the tiniest glimmer of hope in that miserable season. It was a false dawn, but it was something.
VINDICATED
No matter how often I tell people, they never believe that the Yankees once had a mascot. "No, really," I'd say. "He looked something like a furry bindlestiff." Of course, no one knew what I meant by bindlestiff, so they'd ask, "Is that some kind of animal?" I would explain that the Yankees' mascot was not an animal but some kind of molting hobo. "But why?" they would ask. I never did have the answer to that. Appropriately, as the mascot had a Muppets connection, they answer would seem to be found in a Muppets line: "Somebody thought of that, and someone believed it."
CHAT
I chatted up baseball at BP, and whatever the heck else you want. While you're there, you can check out the latest Dead Player of the Day.