The Yankees might have violated a fundamental rule of the draft yesterday. I offered the qualifier "might have" because I don't know Damon Oppenheimer and don't claim to be able to read his mind or that of anyone else. Still, my first reaction when Cito Culver's name was called was that the Yankees weren't drafting the best player available, but rather for need—the need to try to replace Derek Jeter.
Jeter will turn 36 in about three weeks. No doubt many Yankees fans and the Yankees themselves wish he could go on forever, basic facts of our existence make that impossible. The Yankees have to prepare for a day when the only thing the Captain is hitting is soft tosses on Old Timer's Day. It seems reasonable to assume that Jeter will be back for at least one more contract; just re-signing him doesn't provide any insurance against the erosion of his skills. The Yankees have to be ready to move on, and not at the conclusion of the next contract, but any time.
"Moving on" is easier said than done; it's almost impossible to replace a Jeter because you can't just manufacture a Hall of Famer on demand. Outside of Phil Rizzuto's fluke MVP season in 1950, the Yankees went nearly 100 years before they had a shortstop with Jeter's offensive abilities who could also, however much Jeter's glove has been derided at times, could actually play the position, otherwise Mickey Mantle would now be remembered as the greatest offensive shortstop of all time.
As I observed here recently, replacing Jeter from outside the organization also seems unlikely. The top youngish shortstops—Troy Tulowitzki, Hanley Ramirez, perhaps Elvis Andrus—aren't going anywhere for years. The candidates inside the organization aren't promising. If the team is going to avoid overpaying for the kind of outside shortstops they had in the years immediately prior to Jeter—Spike Owen, Mike Gallego, Tony Fernandez—or having to settle for an internal model in the Ramiro Pena mold, they're going to have to get about the serious business of growing a replacement. Again, it's very easy to say that, easier still to dream on it, and about impossible to do. You cannot whistle up an MVP or Hall of Fame type whenever it's convenient. It is a near certainty that the next shortstop will represent a massive fall-off from Jeter, at least offensively.
With the 32nd pick in the first round, the Yankees were in a difficult position in what has been characterized as a thin draft. However, Monday night's selections veered as widely from pre-draft predictions as any in memory, and quality players did fall to the end of the round. Even so, the Yankees went for what was clearly a predetermined selection and took local product Culver, a switch-hitting high school shortstop. Prior to the draft, Baseball America ranked Culver as the 168th-best talent in the draft, which is to say that in their educated opinion Culver had no business being picked anywhere near the first round.
The emphasis in that last should be on "opinion," because no one can see the future, and it's perfectly legitimate for Oppenheimer and the rest of the Yankees to look at Culver and see something that others do not. Only Culver's performance will tell us who was right and who was wrong—168 could prove to be far too low, but it could also prove to be far too high. We can't know. That said, however enthusiastic the Yankees are about Culver, and however likely it was (as Oppenheimer claimed in interviews today) that the shortstop was certain to be off the board by the time their second-round pick came up, there are problems with this choice.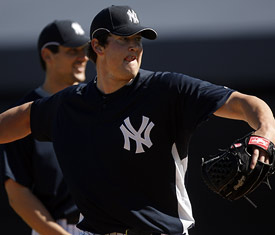 The issue is similar to the one posed by taking Andrew Brackman with the team's first pick in 2007: the draft is speculative enough without taking unwarranted gambles on high-risk/high-reward players. Gambling would be a worthwhile thing to do in a draft situation, but in a case like this year's, where some strong, well-rounded players fell, going for certainty would seem the smarter thing to do, especially when the Yankees' system has some promising second basemen and catchers, but not a great deal more in other departments (though if Brandon Laird keeps hitting the way he has for Trenton, the Yankees are going to finish the season with one more third base prospect than they started with).
Again, if the Oppenheimer were to reply to this argument by saying, "I don't believe that the available players offered any more certainty than Culver does," we'd have to take his word for it because there's no way to disprove him at this time except to say, "Those who selected Nick Castellanos, Bryce Bentz, Stetson Allie, and Brandon Workman might have cause to disagree." Then, as with all draft arguments, we have to wait (and wait) and see.
The good news is that the Yankees' next few picks, including high school shortstop Angelo Gumbs (who may move to the outfield as a pro), college third baseman Robert Segedin, and high school outfielder Mason Williams, inspire more confidence based on pre-draft evaluations. Now we move on to actual test, assuming the Yankees sign them all, including Culver. Developing a star position player remains the challenge. The Yankees' current lineup contains five home-grown players, but only one of them, Brett Gardner, came out of the draft later than Jeter in 1992 (Robinson Cano and Francisco Cervelli were international free agents).
This lack of success with bat-swinging types is just another piece of evidence that Jeter's replacement won't be easily developed, so better not to force it and make the surest bet you can. Maybe the Yankees just did that, maybe they didn't.