MUCH ADO ABOUT SOMETHING: THE CULT OF THE VETERAN
Here's a trivia question for you: Who was the Yankees' opening day designated hitter in 1977? Here are some hints: It wasn't Reggie Jackson; he played right field. It wasn't Roy White; he played left. It wasn't Lou Piniella; he didn't play. Ready? It was Jimmy Wynn -- the Toy Cannon. He went 2-for-3 with a home run, too, the only run the Yankees would need in a 3-0 win over the Brewers.
Jimmy Wynn was 35 then. He was a heck of a player, though it's sometimes hard to see that because he played in the 1960s and 70s, a time when offense was at a low ebb. In 1969, he hit .269/.436/.507 with 33 home runs and 148 walks. That's roughly equivalent to hitting .305 with 40 home runs last year. He was a monster player in his prime. But, by 1977, he was done. That Opening Day home run would be the only one he would hit as a Yankee. It came close to being his only hit as a Yankee, period. After 30 games and 92 plate appearances, Wynn had hit .143/.283/.234. The Yankees released him despite his great career numbers, because when you can't do it anymore, you can't do it.
In 1989, the Yankees' Opening Day starter was Tommy John. He won, too, outdueling Frank Viola. It was the 287th career win for the three-time 20-game winning left-hander, who was by this time 46 years old. It was also the second-to-last win of his career. By the end of May, he was 2-7 with a 5.80 ERA. Dallas Green, the Yankees manager at the time, observed that John was physically still capable of pitching but no longer capable of retiring batters and released him. John may someday get into the Hall of Fame, but the Yankees released him because, well, they had to.
I could go on. There is no shortage of stories like this, both with the Yankees and with every other team in baseball, every year that baseball has been played. It might also be useful to throw out Bernie Williams, who didn't get a contract after the 2006 season because although he could still hit a little, he could no longer play the outfield and couldn't hit enough to be a first baseman. Heck, we could talk about the Yankees cheerfully waving, "Buh-bye" to Babe Ruth after the 1934 season.
In baseball, teams make these cold, hard decisions every day. That being the case, if even great players can be released when they no longer have a role, why is Randy Winn so special? Rosters are small these days. Winn hasn't hit since 2008, making his only reasonable role that of defensive replacement. Assuming continued health on the part of Curtis Granderson and Brett Gardner, that's not so necessary to have on the roster just now, and in any case is a very limited use of a roster space. What's more, Greg Golson, another guy who can catch but can't hit, is still in the organization, so if the Yankees need to dip back in the glove-only department, they're covered.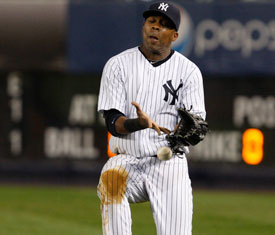 Where they are clearly not covered is in the key area of "right-handed reserve outfielder who can hit," at least not while Marcus Thames is platooning at DH, and even if he wasn't, then you'd actually need two players, a platoon DH and a defensive replacement, so Thames is exactly where he should be. I don't know if Kevin Russo is ultimately the best choice for the job, but he could be, because (A) most right-handed hitters can hit left-handers, and (B) any right-handed hitter can hit left-handers better than Granderson can. At Scranton, 25-year-old Chad Huffman, who the Yankees plucked out of the Padres system, is hitting .293/.361/.450 overall and .351/.385/.541 against lefties. Dave Winfree is hitting .283/.314/.455 overall, .325/.370/.650 against lefties. As I've observed before, neither of these guys is a coming star (or asteroid, or rusting old television satellite), but if all you're asking them to do is play left field and hit a little against left-handers, there is no reason to think they aren't up to the task.
Those choices and others exist if Russo doesn't work out, but as I discussed yesterday, his infield-outfield versatility makes him a very good choice to keep on the roster. There just aren't any similar justifications for Winn except that the Yankees spent the money—and keep him or release him, the money is gone.
CAVEAT
It goes without saying that the above is premised on the notion that the Yankees accept the idea that Granderson needs to be platooned, which they probably don't. I'm not sure why they wouldn't. If you count this year, Granderson's production has declined in three consecutive seasons, and overexposure to southpaws is a big part of that. I know they had grand ideas about helping Granderson solve this problem, but to the point that he got hurt there was no evidence that he had made any progress whatsoever. There's no shame in this, and Granderson is still a very fine player who should be quite valuable for the Yankees. He just needs a little help sometimes, just like 95 percent of the players in the game.
IT BEGINS…
The The Hughes Rules are about to be imposed. The article suggests the Yankees will try to handle things with a bit more delicacy than last year, when they more or less bludgeoned Chamberlain with restrictions and seem to have more or less ended his career as a starter. Good luck surviving this challenge, Mr. Hughes.