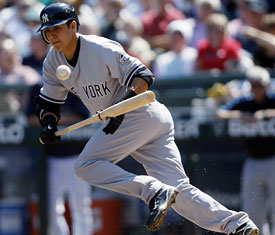 MORE PRETENDING
One of the frustrations of watching baseball is when a team takes a player of limited skills and pretends him into being someone who can actually play. Ramiro Pena is a case in point. During the second game on Wednesday, Michael Kay remarked that Pena looked frustrated. Of course he's frustrated—he can't hit. Whatever the benefits his glove confers, Joe Girardi should know that intentionally inflicting Pena on the starting lineup in both ends of a doubleheader is just giving away offense. This is especially true when Kevin Russo, who has shown that he can hit a bit, is still on the roster. Russo isn't a shortstop, but third base shouldn't have been out of the question.
Before I get e-mail reminding me that Pena hit .287 last year, first, remember that the batting average was his sole contribution as he doesn't walk or hit for power, and that batting average is the aspect of offense most influenced by luck: you have a few extra singles drop in, you have a good average. You have a few plays made on you by a top shortstop, you have a bad average. The difference between Pena's .287 of last year and .243 is five hits. As Pena hit .340 on balls in play last year, there's plenty of evidence that Pena benefitted from non-repeatable (or at least unlikely to repeat) good luck. Keep in mind as well that Pena never hit anything like .287 in the Minor Leagues.
Of course, the roster as a whole is very confused right now, and it's really not clear why the Yankees have the reserves that they do except for the fact that the 40-man is clogged up with the body of Christian Garcia. Going into tonight's games, Brett Gardner is hitting .343 (12-for-35) against left-handers. Perhaps Marcus Thames is still someone's platoon partner when Curtis Granderson comes back, but he shouldn't be Gardner's. He should be Granderson's, or more appropriately, the part-time DH until that magical, far-off day on which Nick Johnson returns, or even after. That means that someone else, perhaps even someone who can field, can take up the left field station on the days that Granderson sits.
That person is not Greg Golson, back in the Majors despite hitting .242/.280/.389 at Scranton. It might be Dave Winfree, now up to .301/.339/.496 (seven of 12 hits against LHP for extra-bases), or even Chad Huffman, whose recent hot streak has gotten him to .253/.320/.429. All the player in question really needs to be is right-handed and more capable of running down a ball in left than Thames. Now is the time to be looking for him, but instead, it's Golson and Russo and starts to Pena.
That's bad roster management by the GM and bad lineup management by the manager. There's nothing wrong with giving Derek Jeter or Alex Rodriguez a keep-'em-fresh turn at DH, but if that means using Pena instead you're just punting on a lineup spot. Pena is effectively the DH in that situation, a choice no rational manager would make.
If Nick Swisher and his sore biceps are out for more than a day or two, this really becomes an acute problem. An outfield of Randy Winn, Gardner, and Thames isn't exactly comparable to Keller, DiMaggio, and Henrich.
DEREK JETER IS 36 YEARS OLD ...
... And in a major slump, something that has not received much comment in the media. After going 0-for-8 in Wednesday's doubleheader, he is hitting .270/.311/.411. He finished April hitting .330/.354/.521, but since then he seems to have switched places with Mark Teixeira, going 7-for-47 (.149) with two doubles. It might help if he saw some runners on base, but when you put Pena just in front of him for two-thirds of a doubleheader, you're not going to get too much of that.
STRANGE DAYS INDEED
I'm not making any kind of direct comparison here, but Phil Hughes' great start to the season got me thinking back to other Yankees pitchers of my lifetime that had had similar launches. That brought to mind Charles Hudson, a 28-year-old vet who came over to the Yankees in exchange for Mike Easler and Tom Barrett (brother of Boston's Marty) in the winter of 1986. After seven starts, Hudson was 6-0 with a 2.02 ERA. Four starts later, the Yankees had dropped him from the rotation. Shortly after that, he was sent to the Minors with a record of 7-3. There must have been something going on, some breach of discipline, that didn't become public knowledge, because the speed of Hudson's fall doesn't make much sense on its own. The Yankees used Hudson as a swing man in 1988, a role he pitched in without distinction, then traded him to the Tigers for Tom Brookens…
DEFINITIONS CHANGE, I GUESS
I don't know whether to put this here or at Wholesome Reading, but researching Jim Spencer for Dead Player of the Day I came across this wonderful quote from George Steinbrenner in a 1978 New York Times article by Tony Kornheiser:
I'll tell you when I really bristle. I'll be sitting at some board meeting and I'll hear some big shot say, "Look at those people," and you'll know exactly which people he's talking about. "All they want is their unemployment checks." Well, let me tell you something. I've been to the South Bronx; how many of these big shots have been to the South Bronx? You gonna tell me that's all that guy wants in life? No way… If he had the opportunity that I had, God knows he might be a better man than all of us.
"Now look, I'm no crusader, I don't want it to sound like that. I'm no Robin Hood. I just like to help people, that's my bag. They call me a flaming liberal; I guess I am."
The Boss was a big fundraiser for the Democrats in his pre-Yankees years, so this isn't totally surprising. Still, you just don't think of Steinbrenner describing himself this way.
MORE FROM ME
• By coincidence the last two Dead Players of the Day have been Yankees, Earle Combs and Jim Spencer.
• Wholesome Reading continues to be updated. Warning: politics, damaged bats!
• For those that have inquired, my father is scheduled to be released from rehab on Thursday. He's not yet 100 percent and I'm not sure when he will be, but we're all very grateful that he's going to come home, as I am grateful for your support.
• Haven't updated the old contact info in awhile, so here goes: