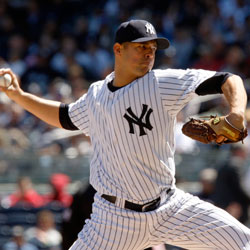 …Are not what Javier Vazquez heard at Yankee Stadium today. At the risk of indulging in some amateur psychology, it must be difficult to execute when you're aware that the stakes of a given game transcend winning or losing. Having had a bad start in Tampa and, we assume, being fully aware of the skepticism with which most fans regard him after 2004, Vazquez must know that if he has a bad start today he's going to face at least a month of hostile home crowds and scathing press and internet chatter no matter how he does in subsequent appearances, whereas if he wins the game he can nip the grumblers in the bud or some equally sensitive part of the body.
The good news is that all Vazquez has to do for the Yankees is put together a season somewhere between his career ERA of 4.21 and his AL-only career ERA of 4.58 and the season will have been a ringing success given (A) the quality of the rest of the rotation and (B) the depth of the Yankees' offense. Sure, it would be better if he exceeded that, but on paper he's the fourth starter and you hope that the other starters don't give the team need to require more from him than that.
That said, Vazquez still has to perform even at that minimal level and he has yet to do that. Meanwhile, Joel Pineiro, who was supposed to be dead meat having to face the world without Dave Duncan, completely took the Yankees out of their game, throwing seven walkless innings at the Bombers. Over the last three years, Pineiro has been extremely stingy with the walks since he got to St. Louis, averaging just 1.6 walks per nine in his time there, including an NL league-leading 1.1 walks per nine last year. That figure is inevitably going to rise with designated hitters in Pineiro's life, but apparently it's not going to go up sufficiently that a team like the Yankees can work him to death as they do most other starters. Fortunately, there aren't many pitchers like Pineiro.
For example, the Angels' starter for Thursday, Scott Kazmir, is about as un-Pineiro-like as they come.
THE MATSUI REUNION
A baseball team is like any other workplace these days in that one day you might get to work and find your best buddy gone, and sometime thereafter, you might find yourself gone as well. There is an added difficulty in baseball in that you have not just the binary "keep/fire" options, but also the possibility of a new contract at a lower salary. It sends an awkward mixed message when you say, "We appreciate your contributions and want to retain you, but at a 60 percent reduction from what you were making before." Even if the reasons are very good, like the player's age, reduced abilities, and an economic decline that has greatly lowered salaries, a team runs the risk that even if the player accepts the need for the reduction, emotionally he is going to feel disrespected. Put yourself in the player's shoes: you're shopping your services around and you hear a great deal of "We'll give him $5 million." Then the Angels come along and say, "We really want you, here's $6 million." That sounds like real desire. The Yankees could have matched that offer and it would have come across as lukewarm desire.
Thus sometimes a team and a player can come to a parting of the ways based on a kind of inflicted incompatibility of terms even if, as in the case of Hideki Matsui, it is fairly clear that the player still has something to give. In an ideal world, a team could put personal loyalty above such concerns, but as a business it's impossible to justify paying a player more than two times the going rate just because you want to protect his feelings.
As such, the team's literal embrace of Matsui during yesterday's home opener was so warming. Sometimes a divorce can happen even though everyone involved has the best of intentions. Indeed, it happens because they have the best of intentions.
SOURPUSS GRUMPYFACE
Not only does the existence of at-bat music contribute to the incredible noise pollution prevalent in Major-League ballparks, but proves that there is too much slack time in the game—some of the clips last far longer than it takes for a player to walk from the on-deck circle to the plate. I'm less interested in why Nick Johnson is walking up to a Miley Cyrus song than the fact that said song plays long enough for people to recognize what it is. If you can name that tune the games are too long.
A QUICK ONE FROM THE COMMENTS
Did you really just compare Posada and Montero and imply that the stats you cite mean anything after 6 games for Posada and 3 for Montero? Really?—dwnflfan
Dwnflfan, when I headline a section with the word "Premature," what do you think I'm suggesting?
MORE FROM ME
• Dead Player of the Day (Steve Bilko) is up at BP, no subscription necessary. Chick Stahl will follow shortly.