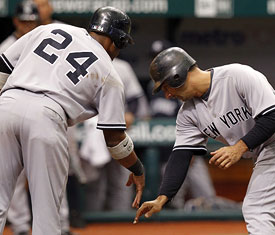 You can't argue with a 4-2 season-opening road-trip. The Yankees have to earn their way through a tough early schedule, and so far they're doing it, hitting and pitching well against two of the best teams in baseball. They've seen Josh Beckett, Jon Lester, John Lackey, David Price, Wade Davis and James Shields. There isn't a pushover in the bunch, in fact the opposite—it wouldn't surprise if in three months five of the six were on the All-Star team. If the Yankees can average six runs a game of offense against these guys, what happens when they get to Kansas City?
Of course, it helps to be taking swings off of the Rays' bullpen, which again looks desperate. You have to feel for former Yankee Randy Choate, who is a fringy pitcher at the best of times in spite of some ability—in over 200 career innings, he has allowed just nine home runs—yet was mercilessly tortured by the Yankees over the weekend.
We may get to see what happens when this lineup faces a lesser brand of pitching starting beginning on Tuesday when the Angels come to town. Not the same team they were last year after several offseason defections, the Halos were mercilessly battered by the Twins and A's in the first two series. You would expect them to settle in a bit—their staff is better than a 6.00 ERA no matter who left—but Jered Weaver, who the Yankees will see on Thursday, is the only pitcher of ace quality left.
While there is still some fine-tuning left to be done on the pitching side, like trying to figure out why Javier Vazquez, cruising in his first start, suddenly fell apart, you can't say enough about the offense, which is doing what it was designed to do. The Yankees lead the league in walks drawn, with Nick Johnson's seven free passes heading up the club. Johnson hasn't hit at all yet, but he still has an excellent .367 on-base percentage. This lineup is going to be draining pitch counts by the fifth inning all season long. That means seeing a lot of middle relievers, which means a lot of lopsided scores.
Right now there is very little to complain about, argue with, or dislike. No doubt other trends will emerge as time goes by, or someone will try to force Joba Chamberlain into a glamour role he can't handle (see below) but for now we get to sit back, watch, and see if this club does as well as the opening week would seem to portend.
SMALL BONE TO PICK
On Sunday's radio broadcast, Suzyn Waldman ticked off all of the things about Curtis Granderson that were supposed to be true that, at least in the first few games, are apparently not. She classified among the Granderson myth's his inability to hit left-handers. "We haven't seen any of that so far," she said. Yes we have. Granderson's going 2-for-9 with five strikeouts is seeing it. He may yet get better, he may yet get worse, but right now his lefty-hitting problems are in full bloom. If he hits .222/.300/.222 against the lefties over the whole season, we'll spend all of October and the whole winter asking why the Yankees didn't get with the platooning.
PREMATURE
If Jorge Posada keeps it up, this might be the season that puts him in the Hall of Fame…
In other news, Jesus Montero is batting .250/.308/.417 in three games. Three runners have attempted to steal, none have been caught.
PREMATURE II, BUT NOT ME
Can we cool the "Joba VIII" bandwagon now? He hasn't shown the consistency necessary, and until he does, talk of making him the eighth-inning man is more wishcasting than analysis.
CHANGE OF ADDRESS FORM
I want to see this on a T-shirt:Hideki Matsui is now "The Los Angeles Godzilla of Anaheim." (h/t Rob Neyer.)
SOME THINGS NEVER CHANGE
In researching today's entry for the Dead Player of the Day blog, I came across this little soliloquy by Casey Stengel from 1958. Enjoy:
There are two principles of successful batting which I have not been able to impress on my players, and I don't know if I am a poor teacher or they are poor students. First, not everybody can knock even this here lively ball out of the park. Second, it is no disgrace to take a base on balls. Time after time my players have sneered at these facts and made things tougher for themselves. If you are not a registered slugger, you must learn to meet the ball. If you are having trouble hitting a pitcher, you have to make him fearful by waiting and walking. A pass is as good as a single for the ball club, even if it is just no time at bat for the player. I will say this. If my own men don't appreciate them two points, they have a lot of company in our league. I imagine all the other managers are squawking too, about the two items.
I'm afraid we managers want the impossible. McDougald makes an error that blows a game in Washington and two nights later he blows another one in Baltimore, and you have to say to yourself, 'Who knows anything about baseball?'"
"I have heard to many things that are calculated to give me the heebie-jeebies. Fans write in and tell me that I will be lucky to finish in the first division, which they are Yankee Haters, and I ain't got any quarrel with them. Many of them are tired and desperate."
WHO'D THEY GET FOR HIM AGAIN?
On Saturday, Tyler Clippard had a crazy-good relief outing for the Nationals, whiffing seven Mets in three innings while allowing only one hit. He was terrific for the Nats last year as well, but he also had a .197 batting average on balls in play, which seemed certain to shoot up this year and still probably will. However, the slider that the former Yankees Clippard developed in the Nats' care seems to have made him a different pitcher than he was in New York, or was given the chance to be. In my youth, the Yankees punted on Bob Tewksbury for some of the reasons they soured on Clippard—he was supposedly long on pitching savvy and short on stuff, but they weren't seeing enough of the former. The problem was (and remains) that the savvy types usually take awhile to adjust.
A: Jonathan Albaladejo. Whoops.
MORE FROM ME
• I'm heading down to Baltimore for an event at Camden Yards. If you're in the neighborhood, come on by.
• Dead Player of the Day, this edition focusing on Yankees Hall of Famer Miller Huggins, is up, no subscription required.
• If you click over to DPOTD, you will see a note announcing my new blog covering my songwriting pastime, CasualObserverMusic.net. Repeating what I said there, I've been writing music for about 25 years but have mostly kept it a private thing. Now I and my songwriting collaborator are going public with a weekly song-blog. First tune: "Mark Twain Rides an Elephant," about, well, Mark Twain riding an elephant and the reasons why he's writing it. As you can see, things follow my usual obsessions, history, literature, baseball. As far as the latter, the first baseball song is in the queue, coming in about two weeks. Hope you enjoy the Casual Observer site.
• Wholesome Reading has been updated with more to come. Warning: hummus! I mean, politics!