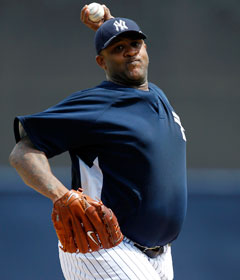 WHAT'S THE USE OF WONDERIN'?
If Alfredo Aceves has to start the season on the disabled list, does that open up a spot for Mark Melancon, or is it more likely that Boone Logan claims the spot, giving the Yankees the fabled "second lefty?"
WHAT'S THE USE OF WONDERIN'? II
Anyone at all bothered by CC Sabathia finishing spring with an ERA of 7.23 in 18.2 innings? I don't think I am as much as I have been bothered in the past by consuming a dish of bad mussels, and chances are it's nothing to worry about given that his strikeout rate has been solid, but it's definitely food for the paranoid.
NATE ROBERTSON TRADED, SO WHAT DOES THAT HAVE TO DO WITH THE YANKEES?
Only this: Robertson is a 31-year-old left-hander who has been rather mercilessly thrashed the last couple of years, and but for 2006, his effectiveness has drifted between below average and outright misery. Last year, elbow surgery kept him out for a good chunk of the season, but he did pitch superficially well in a fall comeback session lasting 28.2 innings. Still, his career ERA is 4.92 -- 5.52 for the last three years (396 innings). His contract for this season calls for him to be paid $10 million. The Marlins just gave up a decent left-handed spot-relief prospect, Jay Voss, in order to get him. The trick is that the Tigers picked up $9.6 million of the remaining freight in order to make Robertson go away. The Tigers are pretty deep in situational lefties, including Phil Coke, so Voss wasn't exactly a pressing concern, but they still got something better than letting him go.
Chad Gaudin is right-handed, which makes him slightly less interesting than a lefty, but he's also got a swing-and-miss slider that Robertson can only dream about. Over the last three years, his ERA is 4.49 in 436.2 innings, so he's been more than a run better than Robertson in more innings. He's due to make $2.95 million this year. As such, the question I would like to ask is this: Was Gaudin's release truly inspired by the lack of a trade market for his services, or was it that the Yankees were unwilling to subsidize the trade?
THINGS I DON'T EXPECT TO LAST
The Orioles named human batting practice pitcher David Hernandez their fifth starter today, thereby sending Chris Tilliman to the minor leagues. Hernandez had a superior spring but is an inferior pitcher with a tendency towards home run production. In the short term, perhaps the Orioles had to make the move, but Tillman will be back quickly. Those Yankees-Orioles games are going to be more difficult than usual this year. Fortunately, they have the Blue Jays to balance things out.
MORE FROM ME
Wholesome Reading has been and continues to be updated with new stuff. (Warning: politics, coyotes.)