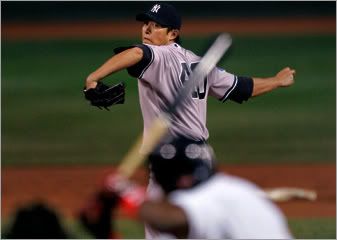 Photo credit: Charles Krupa/AP
Quick Notes:
What a game pitched by Chien Ming Wang. If it wasn't for a typical fielding blunder by Bobby Abreu, in the bottom of the fifth that counted as a HR for JD Drew, he would have taken a no hitter into the ninth inning in Fenway. I doubt Coco Crisp would have had the guts to bunt for a base hit in the bottom of the ninth with two outs and Wang going for the no-no. But, then again...
How many times have we seen Abreu be afraid to go back on a deep high fly, fumble around like a guy looking to turn on a light switch in a dark room and whiff on a ball he should catch? Don't get me started. All in all Wang was splendid and stifled the Red Sox on 93 pitches for a complete game win which gives the tired bullpen a must needed blow. He's starting to get real comfortable throwing his off speed pitches too and then to top it all off, Wang showed off his power sinker by hitting 95 mph on the gun in the ninth inning. I think Boston might have hit the ball hard five times all game. He's off to the best start of his brief career with a 3-0 record and a 1.23 ERA.
I was cursing Jason Giambi as he came to the plate in the sixth because he's looked as woeful as most of the team has offensively, but then he takes Timlin out of the yard in center field to give the Yanks back the lead at 2-1 in the sixth. I still don't trust him.
Alberto Gonzalez has looked very good filling in for Jeter so far...
Molina has been a huge asset already this season and while not known for his bat...he's been spanking the ball all over the place.
 ARod has a gun at third base...
 Melky always seems to keep things moving in the right direction...