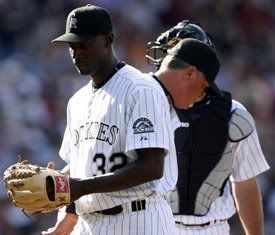 I was not a fan of the LaTroy Hawkins signing, even on a one-year $3.75 million deal. To me, it seemed like the Yanks were committing money and a precious roster spot to someone who might not perform better than the 27 other right-handed pitchers in camp.
But regular readers know I do a lot of my evaluation off of numbers. The guy allowed 1.23 baserunners per inning in the NL last year, his lowest total in 3 years (he allowed 1.46 in 2005 and 2006). Since around 1.3 is average, the 35-year old didn't seem like a sound investment.
But I picked out this tidbit from Peter Abe about some adjustments Hawkins has made to his repertoire.
Hawkins was on the disabled list for nearly a month after developing elbow trouble three weeks into last season with the Rockies.
He changed styles when he returned, going primarily to a two-seam sinking fastball. He was 2-2 with a 2.63 ERA after coming off the disabled list, holding opposing hitters to a .233 batting average.
Being a good doobie, I checked out the stats:
In 9 games (35 plate appearances) in April, opponents torched LaTroy, .367/.429/.567.
Then he went on the DL for a month, and when he came back opponents only managed .233/.279/.332.
His groundball percentage for 2007 was 63.3%, nearly 20% higher than any other point in his career and a couple points
higher
than Wang's average.
If Hawkins can be effective in the American League (does having pitched at Coors Field earn him extra credit?) then not only will he lock up that job as bullpen ace I talked about a few weeks ago, but it should also guarantee that Ross Ohlendorf starts the season in the minors. Ohlendorf's main weapon is a heavy sinker, and while he worked on his split finger this year in the minors and in the AFL, it remains a work in progress. No reason to rush him if we've got a guy on the roster that throws the same pitches (unless he is that good).
I'm still not sold on the signing; but before I was resigned to it, now I'm hopeful.