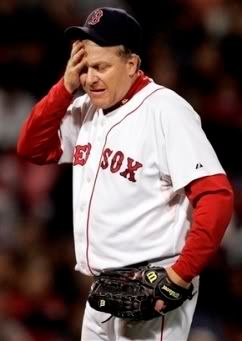 One week ago, I posted this thread and argued that this past week was a very important one for the Yanks if they are going to win the AL Wild Card and stave off a late surge by the Detroit Tigers.
The main focus of my post was that the Yanks had to get solid pitching performances in Toronto and had to keep winning to maintain their lead in the Wild Card chase because Tiger opponents weren't likely to provide much help.
As expected, the Tigers played very well and stormed to a 6-1 record.  Not expected, however, were the outstanding pitching performances by the four big question marks in the Yankee rotation:  Hughes, Moose, Kennedy, and Clemens.
Including the triumphant return of the Rocket on Sunday night, these four combined for a 2-0 record with a miniscule 0.73 ERA.  Of course, they all have to pitch well for more than one turn in the rotation to clinch a post-season berth and feel confident about this team's chances in October.  Nonetheless, the fact that they all pitched extremely well this past week when the team really needed it is quite encouraging.
By winning 4 of the 6 games, including two enormously dramatic wins at Fenway, the Yanks did exactly what they needed to do.
Although the Yanks have to be completely drained after another playoff-like weekend in Beantown, it is absolutely imperative that they keep rolling and not suffer a letdown against the lowly Baltimore Orioles (whom they haven't played well against all season at 4-8) and the Toronto Blue Jays.
As for the Tigers, they now travel to Cleveland to play the red hot Tribe for 3 games and come back home for 4 games against the Minnesota Twins.  
The Yanks hold a 2.5 game lead over the Tigers in the Wild Card chase and continue to control their own destiny.  The Tribe could put a serious dent in the Tigers' playoff hopes with a couple of wins and the Yanks taking care of business against the Orioles and Blue Jays.  
Cleveland is also tied with the Los Angeles Angels for the second best record in the American League.  Needless to say, all of Yankeeland will be rooting hard for the Tribe for the rest of the regular season.
Here's hoping the Yankees continue to get it done so that the final few days of the regular season can be used to give the regulars some well-needed rest before the ALDS.