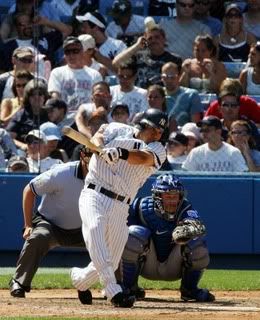 Melky's been on fire since becoming the every day centerfielder in late May.  After hitting .224/.272/.272 in 151 PA, Melky has made himself a starter.
.298/.364/.447 in June.
.368/.410/.528 in July.
.390/.390/.683 so far in August.
How hard is to be a bench player?  
Damon has enough range that I like the alignment of Damon in LF, Matsui DH, and Giambi off the bench.  Joe will undoubtedly move them through a rotation of some sort.
Happy birthday, Melky.  Don't come to the office hungover tomorrow, we've got a sweep to complete.  Pettitte against former Yank Jake Westbrook (1.39 WHIP).