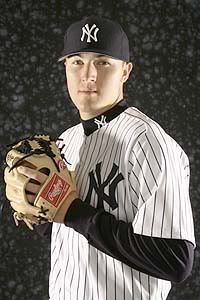 Toronto Blue Jays
Alex Rios,  RF
Adam Lind,  LF
Vernon Wells,  CF
Frank Thomas,  DH
Lyle Overbay,  1B
Aaron Hill,  2B
Jason Smith,  3B
Jason Phillips,  C
John McDonald,  SS
A.J. Burnett,  RHP


New York Yankees
Johnny Damon,  CF
Doug Mientkiewicz,  1B   (Jeter a late scratch with sore leg)
Bobby Abreu,  RF
Alex Rodriguez,  3B
Jason Giambi,  DH
Hideki Matsui,  LF
Jorge Posada,  C
Robinson Cano,  2B
Miguel Cairo,  SS
Phil Hughes,  RHP


Peter Abraham of LoHud is reporting that Kei Igawa is out of the rotation for now and Jeff Karstens will pitch on Saturday.  Sounds like he's on his way to Scranton pretty soon to work on his mechanics.
As far as tonight's game is concerned, like several of you out-of-towners, I will be unable to watch the game tonight due to it not being shown on the YES Network and Toronto not having the FoxSports cable network to broadcast their games -- unlike the rest of MLB.
One would have to assume that Hughes will be on a very strict pitch count like Wang was on Tuesday and won't exceed much more than 80 pitches.  I suspect Hughes will do okay, but nothing spectacular:  5.1 IP, 3 ER, 6 H, 3 BB, 5 K
As many have noted, last night's rainout might have been the best thing to happen to this team since the A-Rod walk-off against the Tribe.  They desperately needed to rest their bullpen and it also gives them the option to pitch Pettitte on Friday against Boston.