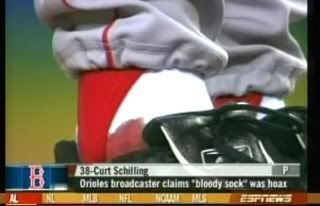 ESPN:
In the bottom of the fifth, Orioles play-by-play man Gary Thorne said on the air that he had been told by Red Sox catcher Doug Mirabelli that the substance was paint, not blood.
"The great story we were talking about the other night was that famous red stocking that he wore when they finally won, the blood on his stocking," Thorne told broadcast partner and Hall of Fame pitcher Jim Palmer.
"Nah," Thorne said. "It was painted. Doug Mirabelli confessed up to it after. It was all for PR. Two-ball, two-strike count."
Two innings later, according to media reports, Thorne explained Mirabelli had told him the story "a couple of years ago." "Go ask him [Mirabelli]," Thorne said.
After the game, Mirabelli flatly and angrily denied Thorne's story.

Do you think we'll be hearing about this over the weekend? Thorne has to respond one way or another.

H/T to Al Rogers for the infamous photo.