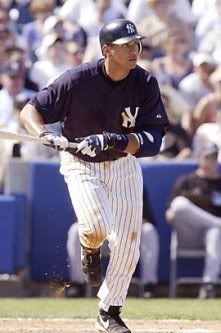 SI.com:
Alex Rodriguez will attract interest from at least a handful of teams if he opts out of his $252 million contract at the end of the season, with the Angels perhaps first in line. But Yankees general manager Brian Cashman made clear in an interview on Tuesday that Rodriguez's current team will not chase A-Rod and will not be part of any bidding war.
"He has a significant contract as it is," Cashman told SI.com. "So I don't anticipate any dialogue regarding an extension."
In other words, Cashman is leaving the ball in A-Rod's court. If Rodriguez wants to remain a Yankee and keep the $81 million and three years remaining on his contract, he can do that. But if he wants to forego that $81 million to seek even greater riches, that's his choice, too. He just won't be getting those extra riches in pinstripes -- at least not this winter.
"I hope he stays," Cashman says. "He knows how I feel about him."
Cashman is a proven A-Rod fan, one of the main powers behind the megatrade that moved Rodriguez east from Texas. But Cashman has shown since taking over full GM powers in recent months that he is fully cognizant of the bottom line, and that means dollars and cents as well as wins and losses. He traded away Gary Sheffield and Randy Johnson (though those are two players he appeared far less enamored of than A-Rod), and the only megabucks deals he signed off on this winter were for Andy Pettitte (one-year, $16 million with a player option for 2008) and Kei Igawa (five years, $20 million, with a $26 million posting fee).


Hat tip to pfistyunc.