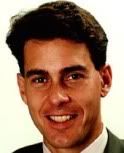 Not sure why Tom Verducci of SI.com thought it was necessary to call out the Yankees in his piece this week while unveiling his prediction for the 2007 World Series -- but he's entitled to his opinion and usually knows what he's talking about.  
That said, I'll eat my dirty underwear if his Dodgers prediction pans out.
Here is a message for George Steinbrenner, Derek Jeter, Brian Cashman and everyone else who has bought in to the Yankees culture that the season is a failure if New York does not win the World Series: The '90s are so over. The baseball world has changed so much from when the Yankees won four titles in five years that the Yankees' world-championship-or-bust mentality has become awkwardly outdated.
Don't get me wrong. The aspiration to win it all should always remain paramount. But the Yankees continue to set themselves up for joyless seasons and their own definition of failure by thinking they should win the World Series every year. Last season they lost two-thirds of their starting outfield and they still won more games than any team in the league and blew the doors off the rest of their division -- and went home horribly unhappy, ready to fire the manager, run a Hall of Fame pitcher out of town and heap more abuse on an all-time great third baseman. Their fans have zero interest in Division Championship hats.
This just in: The Yankees probably won't win this year, either, even if they do have the best team on paper heading into Opening Day. The World Series? It'll be all SoCal -- the Angels over the Dodgers. Why? Because the best team doesn't win any more; teams with young legs do. These are five reasons why the game has changed to the point that the Yankees' philosophy is obsolete.