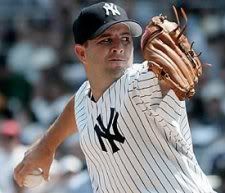 Yankees.com:
TAMPA, Fla. -- The Yankees will wear black arm bands throughout the 2007 season to honor the memory of pitcher Cory Lidle, the team announced Thursday.
Lidle was killed last Oct. 11 when his private plane crashed into an apartment building on Manhattan's Upper West Side. The pitcher and Tyler Stanger, a flight instructor, both died in the accident, just a short distance from Yankee Stadium.
The Yankees have not assigned No. 30, the number Lidle wore last season, to any player this Spring Training.
Lidle, who was 34, was acquired by the Yankees from the Philadelphia Phillies last July 30 with outfielder Bobby Abreu in a six-player trade.
He pitched in 10 games for New York, plus one more in the American League Division Series, posting a 4-3 record and a 5.16 ERA during the regular season.