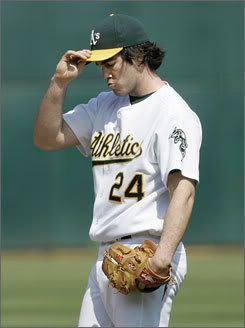 Why does this matter to a Yankee blog?
Because the price for Johan Santana just changed.
Check out these names. In parenthesis I've placed the highest level they've played in, their age, their position, and their Baseball America Top 10 ranking.
Brett Anderson (A+; 19; P (left); 3)
Chris Carter (AAA; 24; 1B; 8)
Aaron Cunningham (AA; 21; RF; 7)
Dana Eveland (AAA; 23; P (left); unranked)
Carlos Gonzalez (AA; 22; RF; 1)
Greg Smith (AAA; 23; P (left); (unranked)
Just to put that in perspective, that's roughly equivalent to trading Horne, Gardner, Miranda, Ohlendorf, Tabata, and Marquez.
While the Yankees have more upper-level players available than the D-backs did, we also have players we want to protect that other teams want for team development and PR purposes.
As posters have noted over at SBN sister-site Twinkie Town, a 6 prospect deal seems to be this season's standard; both Cabrera and Haren brought back a wave of prospects.
I suspect the Twins are going to get a package with a larger number of talented players than we've discussed before, but that talent will be farther from the bigs. I think I'd be ok with that.
Christmas is only ten days away, but don't buy that Hughes jersey yet.