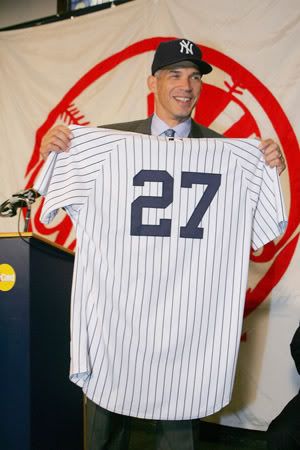 I just watched the presser for Joe Girardi and that was as fast as I've ever seen one. He looked a little nervous and teared up when he began the briefing by talking about his father that is seriously ill. He took only a handful of questions and gave very short responses. He did say he loves the media and got a call from Yogi who asked him if he could go to spring training next year...He'll be giving interviews as the day goes on and I'll check YES out if anything comes up.
Good luck, Joe.

Talking to Kay and Lorenz afterwards, he said that his friendship with Pena and Mattingly was very important and all three had talked about it after the interviews. I believe he said that he asked Donnie to stay on as a coach. I didn't know that...

YES keeps cutting back to MMMKay for further analysis of the Yanks...Please, shoot me.

Girardi did confirm to Mike and the Dog that Mattingly was asked to be the bench coach but he declined...

(h/t) anaconda for the Girardi graphic. He picked # 27 because he's the 27th manager in the history of the franchise. He said he will reach out to Andy Pettitte to try and get him back on the team.