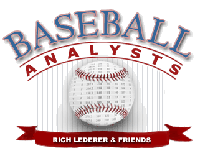 Earlier this week, I was asked by Rich Lederer and Joe Sheehan from Baseball Analysts to detail a playoff preview and scouting report of the Yankees for the upcoming ALDS against the Tribe.  I agreed to participate in order to promote Pinstripe Alley and it's always fun to get involved in the postseason debate.
Ryan Richards of Let's Go Tribe agreed to do the Indians side of it and we exchanged in a position-by-position breakdown and analysis for every starting position player as well as the rotation, relievers, and bench as a whole.  I also added my prediction for the series at the end.
As it turned out, this project was a lot more work than I expected.  In fact, my unedited version was over 3,000 words but I had to cut it down significantly because it was way too long.  Nonetheless, it was a fun project and I thank Joe and Rich for asking me to participate.
Please check it out and feel free to tell me what you think.