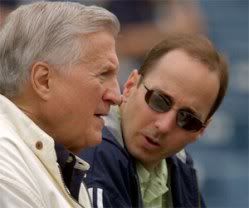 Pete Abraham has a fine piece in Sunday's edition of The Journal News on Brian Cashman and the power he has gained within the organization since the 2005 season.
Abraham has also created a bit of a timeline which illustrate the major player transactions since The Boss granted Cashman control of the daily operations (although I believe some of the organizational moves he has made during the same time span should not be overlooked and have been just as important to the overall goal of winning a championship).
I certainly can't speak for all Yankees fans, but I would imagine that most Yankees fans favored handing more power to Cashman and consider it one of the better moves this franchise has made since their last World Series Championship in 2000.  
The man is not perfect -- and by no means am I in love with every move he has made over the last few seasons (ie: Igawa, Wright, Pavano...etc), but there are few GMs in MLB who I would trust more running this team than Cashman.
In my opinion, he has done a very good job this offseason stockpiling young talent and shedding payroll while trying to get this team back the glory days of the late 1990s.  It only takes a couple of these young hurlers to work out for these moves to be considered successful ones and we cannot fully evaluate the deals he made this offseason for another few years down the road.
I was most definitely not a fan of the ridiculous Kei Igawa bid and subsequent signing, but it was somewhat understandable considering the extremely limited free-agent market and available talent this offseason.
By contrast, I had no problem with the deal sending Randy Johnson back to Arizona.  He clearly wasn't working out for this team and the rotation will survive just fine without him -- not to mention that the money they saved can be used towards Clemens or a deadline deal at the end of July if and when Cashman needs a hired gun to upgrade the rotation.

Your thoughts?