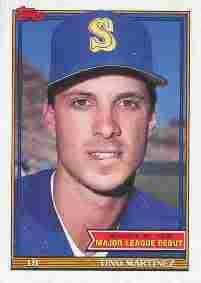 Not only is today a day of remembrance due to the attacks at Pearl Harbor 65 years ago, but it is a coincidental and significant anniversary in regards to Yankees history as well.
Believe it or not, it was 11 years ago today when the Yankees made one of their most memorable and favorable trades during the last couple of decades.

Yankees get:  
First Baseman Tino Martinez, pitchers Jeff Nelson and Jim Mecir


Mariners get:  
Pitcher Sterling Hitchcock and infielder Russ Davis


It was undoubtedly the craziest day of Tino Martinez's life because not only was he a part of this monumental trade and subsequently signed a $20.25M contract with the club on the same day, but his wife also gave birth.  Wow.
Also, on this day in 1939, MLB waived the five-year waiting rule and elected the `Iron Horse' Lou Gehrig to the MLB Hall of Fame.