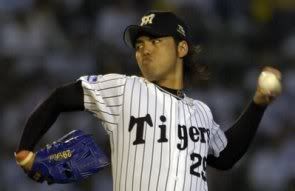 The
Kyodo News
is reporting that it is officially a done deal.
The New York Yankees have agreed on a five-year, $20 million deal with Japanese pitcher Kei Igawa, baseball sources said Monday.
New York won the right to negotiate with Igawa last month with a $26 million offer, opening the way for the Hanshin Tigers left-hander to become the third Japanese to don the famed pinstripes.