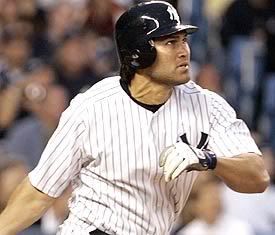 Not long ago, I could not have imagined these words coming out of my mouth:
I love Johnny Damon
.  The guy is just a class act and seems to be as good as they come in MLB.
Peter Abraham highlights a conference call via LoHud that was held today with Damon and the local sports writers.



There are some players who are cordial to the media. Others are friendly and some are even helpful. Then there is Johnny Damon, a category unto himself.
Johnny did a conference call with the writers today, just to spread a little baseball love on a December day.
Here are some highlights:
His health: "Foot is great, back is great. The shoulder ... I'm working on it."
Andy Pettitte: "If I ever got to first base, that pick off move is amazing. He knows how to pitch. When he throws that cutter and sinker into lefthanders, it's tough to get wood on it."
Bernie Williams: "I would love to see Bernie back. He meant so much to the team last year. He can still run and he can still hit. Bernie Williams needs to only be in a Yankee uniform. It's a no-brainer for us. I would play first base for a few games so he could get out there."
Also: Johnny praised Melky Cabrera, Doug Mientkiewicz and refused to take any shots at the Red Sox for low-balling him last season and then opening the vault for J.D. Drew last week. His wife, Michelle, is due on Jan. 1. "She's looking fabulous," Damon said. "She's all belly."
He ended the call by saying, "Peace out! Shake 'n bake! Blog it!"