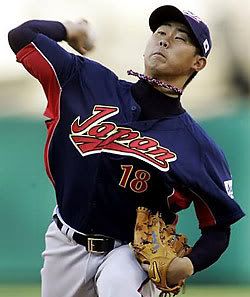 It sure sounds that way, according to
ESPN
:
After all the hoopla surrounding the $51.1 million bid the Red Sox posted to talk to Daisuke Matsuzaka, it appears a contract may not materialize.
Negotiations between the team and the Japanese star pitcher have nearly broken down, the Boston Herald reported Sunday. A source familiar with the situation told the Herald late Saturday that unless "there is an abrupt change of course," the Red Sox will not strike a deal with Matsuzaka before the deadline midnight Thursday.
Attempts to reach Matsuzaka's agent, Scott Boras, were unsuccessful. The source blamed Boras for a lack of interest in the negotiations.
Matsuzaka signed with Boras in October and was posted for bidding in early November.
Of course, anything can happen between now and Thursday's deadline and this doesn't mean that a deal won't get done.  
However, if Matsuzaka does not sign a contract - the fallout would essentially force the Red Sox to do everything possible to bring Roger Clemens back to Fenway next season and would set up a bidding war for the ages between the Yanks and Red Sox next summer when Clemens decides to pitch again.


Update [2006-12-10 12:40:47 by anaconda]: Peter Abraham of LoHud raises an interesting point about the damage this potential fallout could have on MLB/Japanese League relations down the road:
I don't know Matsuzaka, but I do know that if he acts in a way that denies Seibu the $51.1 million, he will be branded as disrespectful and selfish in Japan. That is not what he wants. He could return to Seibu next season and be posted again theoretically. But he has already gone through the formal process of saying farewell to the team and fans.
That may sound silly to fans in the U.S. who are used to athletes acting only in their best interests. But Japan is not like that.
Scott Boras is playing a dangerous game. Failing to make a deal would badly damage the delicate relationship between MLB and the Japanese League.
The same is true for the Red Sox. They knew that Matsuzaka had Boras as his agent and bidding for him would cost on the back end. Making a lowball offer and letting Matsuzaka return to Japan would add more credence to the idea that Boston conducts its business in a deceitful manner.
That said, I do think both sides will give and a deal will be made. There is too much at stake.