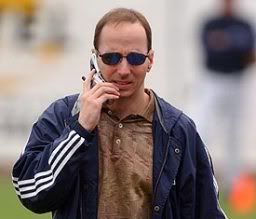 NY Times:
The Yankees will have five starting pitchers once they sign Kei Igawa, the left-hander from Japan whose negotiating rights they won Tuesday. But two of those starters have serious health questions, which is why the Yankees may not be done shopping.
"I'm always looking around," General Manager Brian Cashman said. "I don't have to do anything, but if something makes sense, I will look at it."
As a policy, Cashman does not publicly identify his choices on the free-agent market. But the Yankees' first choice seems to be the least expensive and most familiar: Andy Pettitte.
The problem is that Pettitte, 34, has not decided whether he wants to keep pitching. The same is true of Roger Clemens, 44, another former Yankee turned Houston Astro who is undecided about his future.
Besides Pettitte and Clemens, the only free-agent starters who interest the Yankees are Ted Lilly and Gil Meche. But the Yankees are skeptical of their true market value and have made a lukewarm pursuit.
The going rate for a fourth or fifth starter is at least $8 million a year. That is what it took this week for the Los Angeles Dodgers to sign Randy Wolf and for the Philadelphia Phillies to sign Adam Eaton. Both pitchers were injured for much of last season.
The market for free agents is soaring at a time when the Yankees are trying to pare payroll to make up for years of heavy spending. That is why Pettitte has particular appeal. If he decides to play, he will most likely not want a long-term deal.
But Pettitte left the Yankees after the 2003 season largely so he could play at home in Houston. Presumably, family concerns are still a factor. Yet the Yankees privately remain hopeful that Pettitte will come back to be reunited with Manager Joe Torre and the organization he helped lead to four titles.
The Yankees have $26 million committed to Randy Johnson and Carl Pavano for next season. Johnson is coming off back surgery, and Pavano's many injuries have kept him out of action since June 2005. That uncertainty creates a need for depth.
But while the Yankees like Lilly and Meche, they are unlikely to pay premium prices. Meche, a veteran of the Seattle Mariners, visited the Toronto Blue Jays on Tuesday. He took in a Maple Leafs hockey game with General Manager J. P. Ricciardi, who remains interested in retaining Lilly. The Yankees have no plans to bring Meche to town.
Signing Lilly or Meche -- neither of whom has ever exceeded 15 victories or 200 innings -- would cost the Yankees more than it would other teams.
Because of the luxury tax on their payroll, the Yankees would effectively pay $56 million to sign a pitcher to a four-year, $40 million contract. (The tax forces the Yankees to pay $1.40 for every dollar on their payroll.) Internally, the Yankees have determined that no pitcher on the market is worth that much.
In that light, Igawa is more appealing for the Yankees, even if he is no better than a No. 5 starter. The $26 million the Yankees bid to negotiate is not subject to luxury taxes. With no other teams competing, the Yankees are hopeful of signing Igawa to a four-year deal for $18 million, at most.
If he does not sign, Igawa will return to the Hansin Tigers and the Yankees will not pay the $26 million. If he does sign, he will join Johnson, Pavano, Chien-Ming Wang and Mike Mussina in the rotation.
Scott Proctor is the wild card in the Yankees' plans. Proctor led American League pitchers in appearances last season, with 83, but he said he heard a clicking noise in his elbow down the stretch and had a magnetic resonance imaging exam after the season to see if he needed surgery.
The exam came back clear, but Cashman asked Proctor if he would prefer to pitch as a starter in spring training. Proctor, who pitched 102 1/3 innings last season, said he had no preference, and Cashman decided to prepare him as a starter, for now.
"It's just a matter of what the team needs," Proctor said yesterday in a telephone interview. "Torre and Cashman are paid to make those decisions, and I'm going to do whatever they tell me. If it's a starter, that means 200 innings. If it's a reliever, that means taking the ball as many times as they want me to."
Cashman said Proctor still projected as a starter because the Yankees had not signed Igawa. Asked if that would change if Igawa signs, Cashman said he had not thought about it.
Cashman has other goals besides refining the rotation. The Yankees are pursuing another left-handed reliever and could bring back Ron Villone or sign the free agent Scott Schoeneweis.
They are also exploring options for first base, including Shea Hillenbrand and Eduardo Pérez and must add to their bench a catcher, an infielder and an outfielder.