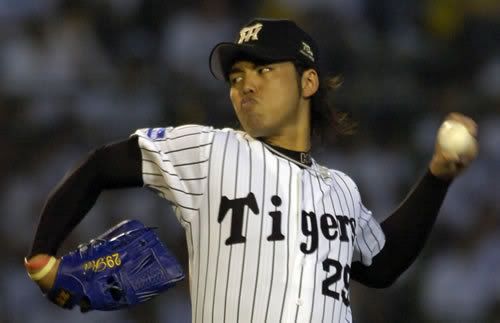 NY Post:
November 29, 2006 -- The Yankees winning the posting bid on Japanese lefty Kei Igawa yesterday doesn't make their rotation whole. In fact, several talent evaluators raked their heads when informed the Yankees' winning bid was $26 million for a pitcher many believe is no more than a fourth starter.
However, the 27-year-old lefty, who will likely land a four- to five-year deal in the $4.5 million per season range, is going to be in the Yankees' rotation.
The Yankees ensured that by drowning the other bids, one of which was a $15 million effort by the Mets. The Hanshin Tigers accepted it yesterday. The Yankees have until midnight Dec. 28 to sign Igawa, or he has to return to Hanshin and the Yankees get their money back.
Getting a deal done shouldn't be a problem. Igawa wants to pitch for the Yankees and is represented by Arn Tellem, who has a strong relationship with the Yankees since his client list includes Hideki Matsui, Mike Mussina and Jason Giambi.
"It would be an honor for me to help put him in pinstripes for the 2007 season,'' Tellem said of Igawa.
Acquiring Igawa, who was 14-9 with a 2.97 ERA last year and 86-60 with a 3.15 career ERA, doesn't mean the Yankees are flush with starters behind Chien-Ming Wang and Mussina. Randy Johnson is 43 and returning from back surgery. Carl Pavano hasn't pitched since June of 2005 due to many ailments.
With Igawa at the back of the rotation the Yankees still need a starter, but it doesn't appear in the final days of November that they will sign Barry Zito, Gil Meche, Ted Lilly or Jason Schmidt. Andy Pettitte would be welcome, but he hasn't decided if he wants to pitch.
They could put together a package headed by Melky Cabrera and Humberto Sanchez to lure the Marlins into moving Dontrelle Willis out of Miami.
As for Igawa, the Yankees bidding that much money on him after putting in a $32 million bid on Matsuzaka, who went to the Red Sox for a staggering $51 million, is puzzling since Matsuzaka is considered a No. 1 and Igawa isn't.
However, with the free agent market booming, the Yankees likely saw it as part of doing business. And the bid doesn't count against the luxury tax.
"We have been following Kei Igawa's very successful and accomplished career in Japan and we are excited about the opportunity to begin the negotiating process with him,'' GM Brian Cashman said in a statement.
"I am very pleased to have the rights to sign him for the Yankees,'' George Steinbrenner said through PR guru Howard Rubenstein.
According to a scout familiar with Igawa, don't expect Igawa to knock anybody's eyes out.
"He isn't overpowering, his fastball was at 88 to 91 mph range. I heard he has thrown harder, but I didn't see it," said the scout, who saw Igawa pitch for the NPB All-Stars against the MLB All-Stars recently in Japan. "His breaking ball was inconsistent. David Wright hit a homer off a breaking ball I thought was going to go out of the (Osaka) dome. His best pitch is a change-up. He is a serviceable guy, but not a Matsuzaka."
Wright gave Igawa the benefit of the doubt because he was pitching on six weeks' rest. In six innings he gave up five hits, two runs, fanned four and walked six in a 7-2 MLB victory.
"That day he had an average fastball, between 88 and 90 mph, an average slider and a very good change-up," Wright said. "He located pretty well. But not pitching for six weeks his endurance wasn't where it would be during the regular season. He shut us down the first time through the order and that was a pretty good lineup we were (using)."

---

I really don't get this move at all by Cashman and I'm wondering if he's been taking his medication.
$26M for his rights plus the cost of his actual deal is an awful lot of cabbage to fork over for a guy that doesn't appear to be an upgrade over anyone else on the current market.  
They seemed to want to rid themselves of the Jaret Wright option because he sucks and they would save a few million on top of it.  For reasons I supported, Cashman scoffed at the idea of paying the ludicrous salaries and commitment to guys like Lilly, Meche, and Zito, but then turn around and make a ridiculous bid on a guy that has not exactly set the world on fire in Japanese baseball?
Doesn't make sense.   I simply don't understand it and I'm hoping a deal doesn't get worked out for one reason or another.