NY Post:
November 28, 2006 -- On the day the Yankees officially welcomed soon-to-be 38-year-old Mike Mussina back into their Kate Moss-thin rotation with a two-year, $23 million deal, Brian Cashman said he believes Randy Johnson and Carl Pavano can be counted on to fill in behind Chien-Ming Wang and Mussina.
Johnson is 43 and returning from October back surgery. Yet, he has two years with the Yankees and is 34-19 in 67 starts. He isn't the hurler he was five years ago but he wins games, so Cashman isn't reaching when the GM says Johnson can be counted on if the back is OK. While there are age questions, nobody ever has questioned the left-hander's work ethic.
When it comes to Pavano, however, the GM is dancing way out on a skinny limb. Signed to a four-year, $39.95 million contract following the 2004 season, the 30-year-old right-hander is the Yankees' biggest bust since Hideki Irabu, who at least took the mound 74 times in 21/2 years and went 29-20 for his $12.5 million.
"It is what it is," Cashman said of his suspect rotation that might be upgraded by paying big bucks to Barry Zito, Ted Lilly, Jason Schmidt or Gil Meche. "Nothing I do this winter is going to change the money I have invested in Randy Johnson and Pavano."
Several sources insist the Yankees' off-season pitching plans hinge on whether Andy Pettitte wants to continue hurling. If he does, the Yankees are very interested. Presumably, the same goes for Roger Clemens.
Johnson is owed $16 million for this coming season, and Pavano will be paid $10 million in 2007 and $11 million in 2008. There is a $15 million team option for 2009 or a $1.95 million buyout.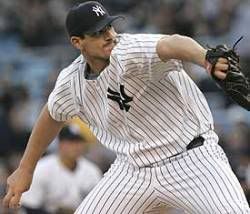 According to CashMan, early reports on Johnson's back indicate the rehab program is progressing well. Pavano, who was at Yankee Stadium yesterday, is spending the off-season in Phoenix trying to get his body into shape, something it has never been inside a Yankee uniform.
"We have had two years of difficulties," Cashman said of Pavano, who has appeared in 17 games for the Yankees but none past June of 2005 due to back, elbow, shoulder and rib injuries.
"Hopefully on the back end of the contract we will get what we paid for. Because of the money invested, we have to count on him."
Cashman said disciplining Pavano for not telling the team about a car accident in which he suffered broken ribs while on a rehab assignment last summer hasn't been resolved.
With the Yankees showing very little interest in Lilly, Schmidt and Meche, who will get $9 to $10 million a year for four seasons, and almost none in Zito, who many believe will command $90 million for six years, the Yankees were happy to ink Mussina to a two-year deal worth $11.5 million a year. There are no options and Mussina is a five-and-10 player who can't be traded without his permission.