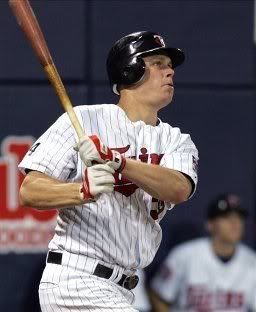 ESPN:
NEW YORK -- Minnesota's Justin Morneau edged the New York Yankees' Derek Jeter to win the American League's Most Valuable Player Award on Tuesday.
Morneau received 15 first-place votes, eight seconds, three thirds and two fourths for 320 points in voting by a panel of the Baseball Writers' Association of America. Jeter got 12 firsts, 14 seconds, one fourth and one sixth for 306 points.
The other first-place vote went to Twins pitcher Johan Santana, who was seventh overall with 114 points.
The 14-point difference between Morneau and Jeter was the 16th closest overall and 10th closest in the AL since 1983.
Morneau hit .321 with 34 homers and 130 RBI, helping the Twins win the AL Central for the fourth time in five years. Jeter batted .344 with 14 homers and 97 RBI, finishing three points behind the Twins' Joe Mauer, who became the first catcher to win an AL batting title.
The only players other than Morneau and Jeter to be named on every ballot were Boston Red Sox designated hitter David Ortiz, who ranked third with 193 points, and Chicago White Sox right fielder Jermaine Dye, who was fifth with 156 points. Oakland Athletics DH Frank Thomas, who was on 26 ballots and had 174 points, was fourth.
Rounding out the top 10 were Mauer, Cleveland Indians DH Travis Hafner, Los Angeles Angels right fielder Vladimir Guerrero and Detroit Tigers shortstop Carlos Guillen. In all, 33 players received votes.


Update [2006-11-21 16:22:46 by anaconda]:

The man who voted Jeter sixth in the MVP race was Joe Cowley, a ChiSox beat-writer for the Chicago Sun-Times.

I won't supply his email address because I don't want to be accused of encouraging readers to send him threatening messages.