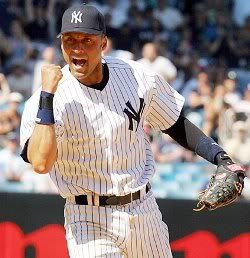 George King of the NY Post has a final rundown on his competition:
November 20, 2006 -- The man who has almost everything could have it all by tomorrow, when the American League Most Valuable Player is announced.
What more could a baseball player want than Derek Jeter has? How about four World Series rings? Add AL Rookie of the Year honors (1996), the All-Star Game MVP (2000), World Series MVP (2000) and the past three AL Gold Gloves at short.
Not enough? Try making $19 million a year, having two wonderful parents and dating the hottest women in the galaxy.
An MVP award is the only trinket missing from Jeter's universe, and friends say while winning a fifth World Series ring is atop Jeter's wish list, he is taking the MVP race seriously.
"He competes in everything, and this is no different," an acquaintance said of Jeter, who has never led the league in hitting, homers or RBIs, but whose brilliance isn't tethered to the sexier statistics that have suffocated baseball.
Will he win it? Can he make it two Yankees in a row - and a major league high 20 overall - after Alex Rodriguez copped the 2005 award with a close victory over Boston's David Ortiz?
Since the Baseball Writers' Association of America - with two voters from each AL city - encourages its members to not divulge their ballots, we are left to informal polls to shape how the voting will turn out. Those surveys indicate this year's race could be closer than last season's, when Rodriguez won his second MVP award by a scant 24 points over Ortiz. For many, the deciding factor a year ago was that Rodriguez helped the Yankees win games with his glove in addition to his potent bat, while Ortiz, a DH, didn't play defense.


Read the rest here.