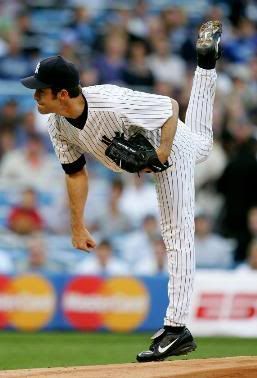 Associated Press:
NEW YORK -- Mike Mussina and the New York Yankees reached a preliminary agreement Monday on a $23 million, two-year contract.
Mussina is scheduled to take a physical Tuesday that would allow the deal to be finalized. He declined comment on the agreement, saying he would refrain from any remarks until a telephone conference call Wednesday.
A right-hander who turns 38 on Dec. 8, Mussina left the Baltimore Orioles after the 2000 season to sign an $88.5 million, six-year contract with the Yankees. He was 15-7 with a 3.51 ERA this year.
New York declined a $17 million option last week, paying a $1.5 million buyout, but the Yankees have said since the end of the season that they hoped to keep Mussina. Some of the money in his new contract will be deferred, lowering its present-day value for purposes of the luxury tax.
New York's current rotation includes Chien-Ming Wang, Mussina and Randy Johnson. Yankees general manager Brian Cashman hopes Carl Pavano can return from a string of injuries that have sidelined him since June 2005, and Cashman said last week that he might have Scott Proctor prepare for spring training as a starter.
In addition, the Yankees enter spring training with more prospects than in recent years who could have a chance of making the rotation. Jeff Karstens impressed in six spot starts last season and Philip Hughes was 10-3 with a 2.25 ERA and 138 strikeouts in 116 innings for Double-A Trenton. Humberto Sanchez, obtained from Detroit in the Gary Sheffield trade, was a combined 10-6 with a 2.53 ERA and 129 strikeouts in 123 innings with Triple-A Toledo and Double-A Erie.
New York also has been involved in discussions with the agent for free-agent first baseman Shea Hillenbrand. His agent, Dan Lozano, said several teams are interested in Hillenbrand and that discussions have not progressed with any club.


---
Just my opinion, but considering the ridiculous cash being thrown around right now, Moose is an absolute steal at this rate.
Of course, especially when you consider that Ted Lilly is asking for 4yrs/$36M and he's never been better than a #3 or #4 starter throughout his career.