From Yankees.com:
When discussing the idea that the Yankees are No. 1, the conversation usually centers around first place in the American League East or which team has the largest payroll.
This season, however, the Yankees -- traditionally known more for importing talent than developing it -- boasted the best organizational record in the Minor Leagues. While those numbers include what New York's Dominican Summer League teams did, it's worth something, considering the Bombers were the fourth-best organization a year ago. But some solid drafting and holding on to some of the better prospects -- such as Phil Hughes and Tyler Clippard -- have made the Yanks' system worth watching.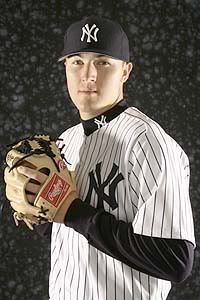 Here's a closer look at some of the players on the Bronx farm who fans should know.
Five Faves
At the start of the season, MLB.com identified five prospects to keep an eye on. Here's how they fared in 2006:
Eric Duncan, 1B/3B

Duncan won't turn 22 until December, so there is still plenty of time for him to turn around what has become an injury-plagued, lackluster career. The former first-round pick had a miserable 2005, which was low-lighted when he was hit in the head with a pitch in August. He returned to action in the Arizona Fall League at full strength and won the MVP award, leading many to believe he left his struggles behind. But he got off to a miserable start at Triple-A Columbus in 2006, hitting .209 with six RBIs and no homers in 31 games. Duncan was shipped back to Double-A Trenton and fared only slightly better, hitting .248 with 10 homers in 206 at-bats. He drove in only 29 runs, though, as a recurring back injury hampered him for much of the season. Duncan needs to stay healthy next season and put up better numbers or he'll make the dreaded leap from prospect to suspect.
Philip Hughes, RHP

There's nothing suspect about the way Hughes [pictured] went about his business this season, proving to be one of the most dominating pitchers in all of Minor League Baseball. He went 12-6 with a 2.16 ERA, making 21 of his 26 starts at Double-A Trenton. He was 10-3 for the Thunder with an Eastern League-leading 2.25 ERA, striking out 138 in 116 innings. He tied for fifth in the Minors by limiting hitters to a .174 combined average at Trenton and Tampa. And he got a call-up of sorts in September, spending time in the Yankees' clubhouse and participating in workouts. Hughes wasn't allowed on the bench, though, because he wasn't added to the roster. He'll probably start next season in Triple-A Scranton/Wilkes-Barre, but don't be surprised if he makes a bid to join the New York rotation.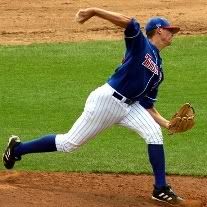 Tyler Clippard, RHP

Clippard [pictured] also got a well-deserved call-up in Hughes-like fashion after going 12-10 with a 3.35 ERA in 28 starts for Trenton. He finished fifth in all of the Minors with 175 strikeouts (166 1/3 innings) while holding opponents to a .200 average. His walk total was up slightly this season, (55 from 34 in 2005), but much of that has to do with the fact that he pitched 19 more innings this year and was facing a more mature and patient brand of hitters -- his career WHIP is still 1.09. Clippard has a better-than-average fastball and will get to show it to hitters in the International League next season. Long-term, he's expected to be part of the rotation in New York with Hughes and Chien-Ming Wang.
Melky Cabrera, OF

Does anyone remember Cabrera's dreadful 2005 Major League debut anymore? When he was called up to the Yanks in early May, some folks in New York winced. But Cabrera went out and performed like the prospect he is, putting last season's miserable experience behind him. When Gary Sheffield and Hideki Matsui went down with injuries, Cabrera filled the void with ease, helping the Yanks to another Eastern Division title. He hit .280 with seven homers and 50 RBIs in 460 at-bats. He also stole 12 bases and figures to be part of the mix in the Bronx for quite some time.
Steven White, RHP

The Baylor product found the Eastern and International Leagues to be two very different animals. White began the year at Double-A Trenton looking very sharp, going 4-1 with a 2.11 ERA in 11 starts. The Yanks thought it was time to move him up, so he was bumped to Columbus, where he found the more seasoned hitters a bit difficult to handle at times. He went 4-9 with a 4.71 ERA in 17 starts for the Clippers. While he held Eastern League hitters to a .217 average, the IL touched him up to the tune of a .256 average. And, after not allowing a homer in 68 1/3 innings with Trenton, he surrendered eight in 107 innings at Columbus.

Read the entire piece here.