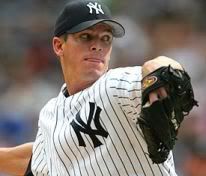 Ken Davidoff of Newsday says yes:
NAPLES, Fla. -- With their starting rotation their greatest uncertainty, the Yankees likely will tell Scott Proctor -- a pleasant surprise as a reliever in 2006 -- to plan for next season as though he will be a starter.
"We'll probably have him proceed and prepare as a starter, because you can always go the other way, slide him down and reduce his workload. But it's hard to go the other way," Yankees general manager Brian Cashman said yesterday as the general managers' meetings concluded. "But that's for another day."
Cashman soon will deliver these likely instructions to Proctor, as the righthander has to work out according to the Yankees' directives.
In the interest of avoiding a free-agent purchase they will regret, the Yankees have explored the trade market for a starting pitcher. Florida intends to keep Dontrelle Willis, but the White Sox are open to dealing anyone from their rotation and could ask for some of the young pitching Cashman acquired this month in the trades of Gary Sheffield and Jaret Wright.
Cashman spoke of owning "a lot of trade chips that might be interesting to some people." Although outfielder Melky Cabrera is more likely to stay than go, he would hold significant value in an effort to acquire pitching.


---
Proctor was undeniably the Yankees' most trusted reliever out of the bullpen in front of Rivera last season and I don't know why they would want to mess with him by trying to make him a starter. Cashman would still have to replace Proctor in the bullpen and I'm not ready just yet to make Brian Bruney the go-to-guy in the 7th and 8th innings (when Farnsworth is MIA).
I hope Cashman has something else brewing because this doesn't sound like a good idea to me.
I'd MUCH rather see Rasner or Karstens get a shot at the rotation and take your chances than move Proctor out of the pen and leave another huge vacancy in the bridge to Rivera.