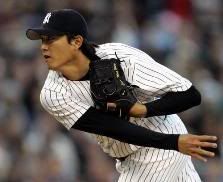 Yankees.com:


NEW YORK -- Chien-Ming Wang's breakout season may have earned him the title of the Yankees' ace, but it wasn't enough to overcome Minnesota's Johan Santana in the American League Cy Young Award vote.
Santana captured his second career award with a stellar 2006, earning a unanimous selection. Wang placed second in the vote, followed by Toronto's Roy Halladay, Los Angeles' Francisco Rodriguez and Minnesota's Joe Nathan.
Santana led the AL in wins (19), ERA (2.77), strikeouts (245), innings pitched (233 2/3), opponents' batting average (.216) and WHIP (1.00). Santana also won the Cy Young in 2004.
Wang, who went 19-6, matched Santana for the league-lead in victories, but his 3.63 ERA and 1.31 WHIP were far behind the Twins' ace. Santana received all 28 first-place votes, while Wang received 15 second-place votes and six third-place votes, appearing on 21 of the 28 ballots.
"Wang certainly pitched well enough to be considered in most years," said Dom Amore of The Hartford Courant, who put Wang second on his ballot. "But Santana was the clear-cut No. 1 choice."
Wang is the second Yankees pitcher to finish second in Cy Young voting in the past two years, joining Mariano Rivera, who placed second to Bartolo Colon last fall.
Wang ranked among the league leaders in several categories, as his .760 winning percentage was third in the AL, his 218 innings pitched were fifth and his two complete games ranked sixth. Wang's 3.63 ERA was eighth in the league. The Yankees went 22-11 in Wang's 33 starts.

Read the rest here.