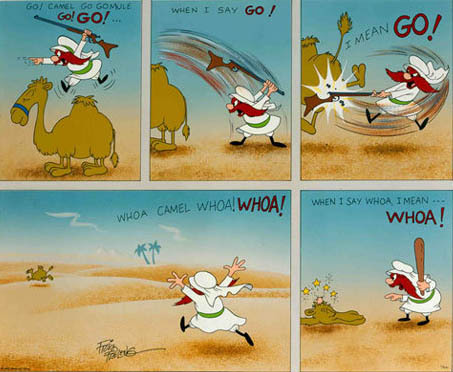 Whoa, is Bud Selig becoming the next Yosemite Sam? I am amazed at the yellow journalism that I continue to read on potential discipline of Alex Rodriguez. He is rumored to be done for the remainder of 2013 and all of 2014. Reports he may even receive a life time ban. So far no one has named a source, that can be confirmed, to the actual discipline. All we have is speculation. We all know what an "assumption" does. It makes an ass of you and me.
I have held several positions within my union, during my shop working days. I am no expert on the players agreement with Major League Baseball. What I am is familiar with the inner workings of a union. Having been on both sides of the fence has given me a unique perspective and understanding of how a union works. I have witnessed the good and bad of a union in the work place.
First off the union is their to support it's membership. They may do what is best for the majority (contract). But they will defend everyone to it's maximum ability. No matter how wrong that person is. That is why the grievance procedure exists. Allows a person some sort of defense against an alleged allegation or wrong doing. A grievance procedure has steps. With each step a disciplined employee will be afforded some sort of defense of his or her actions that caused the discipline. The final resolution maybe be unclear to most. It may end in arbitration or at the National Labor Relations Board (NLRB) in Washington D.C. or at a regional level. Another step that can be taken by a member is when the union refuses a grievance or accepts a decision on a grievance. That member has the right to appeal that resolution to the Union President. The President can then overrule that acceptance of the resolution of said grievance. If he up holds that decision, the member has the right to pursue the issue in a court of law. Hmm interesting huh. Finally, the dreaded action of a STRIKE is a tool used by the union if it feels it is necessary or a last resort. We have seen this in the past and it's potential consequences on baseball.
Now one may understand the defense of A-Rod's attorneys, that seems to be unfolding before our eyes:
Looking back in time. Alex admitted that he had in fact taken a banned substance, while he was a member of the Texas Rangers. He had failed a drug test. Here is the problem and why he was not disciplined. That test was agreed to by the union and MLB to determine the degree of abuse within the league. It was to be held in secret, as well as the results. MLB violated that agreement. It leaked or allowed that information to get out in the general public. That was in violation of that agreement and every players right to privacy. Did we forget that David Ortiz was another one that was on the list as failing a drug test? There was up to 100 players that had failed a test . Never was a complete list ever produced. So much for using this against A-Rod. That would open another whole can of worms.
Recently, Rodriquez has seemed to go public with his concerns. His lack of faith in MLB, the Yankees and any of their doctors. Even having another doctor time and time again review his medical problems. This is nothing more than a public play by his attorneys. They want you and I to ridicule their client. The public verbal bashing of A-Rod plays well in their hand. See this is a form of discrimination. Why did no others receive similar treatment? For example: Curtis Granderson (Yankee's union representative) and Mark Teixeira were not told to shut the f--k up, when they tweeted their medical progress. Now do you understand why his attorneys are present for even the smallest meeting with the Yankees and MLB.
We keep hearing from, the Yankees we need to let this run it's course. Better yet resist comment, when we do not have a true reliable and confirmed source. We need to refrain from supporting that statement, till a source is confirmed. By supporting an unsubstantiated source we are in fact supporting the guilty or accursed defense.